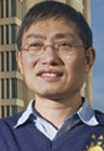 Education and working experiences: graduated with degree of Bachelor of Medicine from Hunan Medical University, China in 1982 and later received degree of Master Science in Biostatistics in 1988 in the same University. In 1997, went to SUNY at Buffalo, USA to study Epidemiology and received PhD degree in Community Health and Epidemiology in 2002. Dr. Liu currently holds the position of Associate Professor in Brock University, Ontario, Canada (since July 2009). Before that, Dr. Liu worked as an Assistant Professor (July 2004 – June 2009) in Brock University, a Biostatistician in the Department of Health and Wellness of New Brunswick, Canada (July 2001 – June 2004), a Research Assistant and Teaching Assistant in the Department of Social and Preventive Medicine, SUNY at Buffalo, USA (Sept 1997 – June 2001), and a Visiting Scholar at the Department of Social and Preventive Medicine, SUNY at Buffalo (August 1995 – July 1997). Before coming to North America, Dr. Liu worked as a Associate Professor (Oct 1993 – July 1995) and a Lecturer (Oct 1988 – Sept 1993) in the Department of Biostatistics at Hunan Medical University, Hunan, PRC.
Achievements & Awards: approximately 50 research articles have been published on peer-reviewed journals or presented at academic research conferences. Dr. Liu received several awards for his several research papers, such as New Investigator Travel Award (CIHR INMD, 2007), International scholar Award (2nd Congress of Epidemiology, 2006), and Student & Post-Doctoral Fellow Travel Award (1st International Conference on Women, Heart Disease and Stroke, 2000). As the principal investigator or co-investigator, Dr. Liu has been awarded approximately CAN $670,000 research funding since 2004 and have supervised or co-supervised 20 graduate students and 12 undergraduate students for their thesis or research projects.
Research interests: his research interests are focus on the relationship between chronic diseases and their risk factors, in particular, lipids and the cardiovascular risk prediction, the impact of early life experience on cardiovascular risk, the association between insulin resistance and the certain chronic diseases, and also life styles modification and prevention/intervention of chronic diseases.