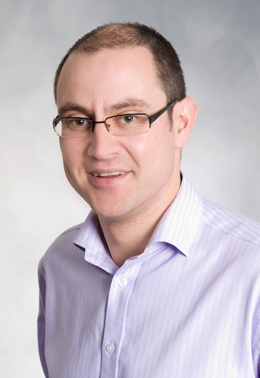 David Grieve, PhD, Centre for Vision and Vascular Science, Queen's University Belfast, Institute of Clinical Science Block A, Grosvenor Road Belfast, BT12 6BA, UK.
Academic Career to Date:
After being awarded my honours degree by the University of Dundee in 1995, I moved to The Royal Veterinary College, University of London, where I completed my PhD thesis on "The role of dietary lipoproteins in the initiation of atherosclerosis" in 1998. I was then appointed as a post-doctoral scientist by Professor Ajay Shah in the newly established Cardiovascular Division at King's College London, where I worked for almost 7 years and received comprehensive training in cardiovascular research. During this time I received the International Society for Heart Research Young Investigator Award (2003). In 2005, I was appointed to an academic position within the School of Medicine, Dentistry and Biomedical Sciences at Queen's University Belfast where I have now established my own research group. I have since been awarded a prestigious Medical Research Council UK New Investigator Research Grant (2007) and been elected to the committee of the British Society for Cardiovascular Research (2008).To date, I have published 34 peer-reviewed papers in the cardiovascular field in high quality journals.
Research Interests:
My main research interest is focussed on the mechanisms underlying the development and progression of cardiovascular remodeling and dysfunction, with a particular interest in the role of oxidative stress and the novel actions of incretin peptide hormones. I employ a wide range of laboratory techniques, ranging from in vivo physiology to molecular biology and tissue culture, to investigate mechanisms underlying the adaptive but ultimately detrimental changes that occur in various cardiovascular disease states and how these may be modulated for potential therapeutic benefit.
Measures of Esteem:
Awards and Honours:
● Medical Research Council UK New Investigator Research Grant awarded (March 2007).
● Young Investigator Award Winner, ISHR European Section, Strasbourg (June 2003).
● Young Research Workers' Prize Runner-up, British Cardiac Society, Glasgow (April 2003).
Membership of Professional Societies:
● British Society for Cardiovascular Research (1999 – present, elected to executive committee Sept 2007)
● International Society for Heart Research (2006 – present)
● Physiological Society (2006 – present)
● European Society of Cardiology (2007 – present)
Editorial Board Membership:
● World Journal of Pharmacology (2010 – present)
Frontiers in Clinical and Translational Physiology (2011 – present)